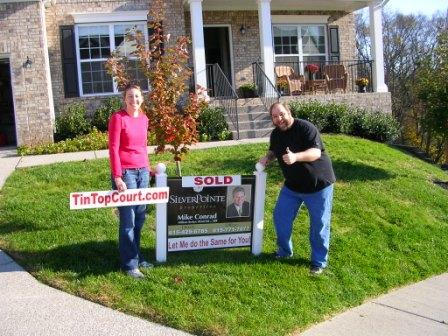 Nashville TN home sold by Mike Conrad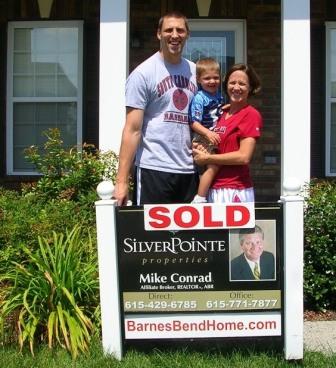 Nashville TN home sold by Mike Conrad

Hey mike,
I was told today the cabinets should be ready for delivery on October 2nd. I hope! This has been the best experience so far. We have great neighbors and attended the neighborhood party this past weekend. We met so many people with kids, young and old. They are all so nice. Peter even went and played cards with a group of the guys the night after the party. We owe it all to you. Thank you for doing everything you did to get us this house. Will still says, "That's my new house" every time we pull into the driveway. He loves that he can ride is "BIG Truck" all over the front yard and on the side walks without us having to yell at him to stop and turn around all the time. We really couldn't be happier.


Talk to you soon,

Kim Bauer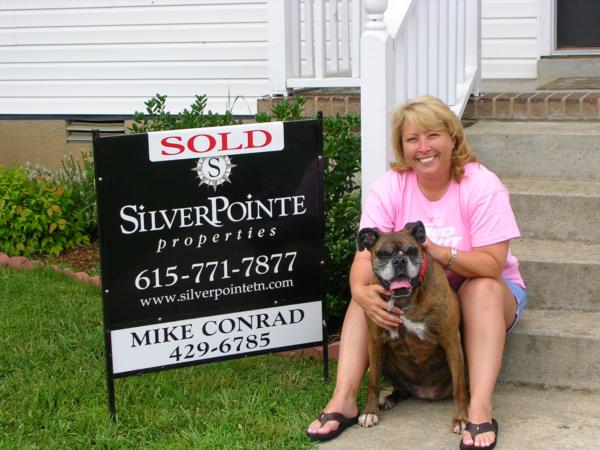 Nashville TN home sold by Mike Conrad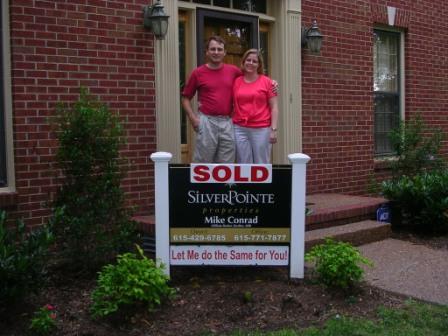 Brentwood TN home sold by Mike Conrad


Brentwood TN home sold by Mike Conrad
Testimonials
There are many things I can say about the high quality of service I provide to my home seller and home buyer clients, but probably none would be as credible as testimonials from some of my recent clients themselves.
So please take a moment to read the following testimonials. I hope they indicate my experience and integrity, as well as make it clear how much I enjoy helping people with their real estate needs.
Estimado Mike,
Queremos agradecerle su ayuda incansable durante la busqueda de nuestra casa, sobre todo gracias por su honestidad e integridad. Mi hermana y yo fuimos muy afortunadas al conocer a una persona como usted con tremenda dedicacion y amor a su trabajo. Sinceramente mil gracias!
Maria y Sonia
Dear Mike,
We want to thank you for your untiring help during our house search; above all thanks for your honesty and integrity.
My sister and I were very fortunate to meet a person like you with tremendous dedication and love for your work.
Sincerely, a thousand thanks!
Mike,

I want to say a major "thank you" for all your help and guidance in the sales process of my home in Franklin. You have always been informed, professional, quick to follow up on requests and questions, and very helpful in the development and presentation of marketing materials and listing information that led to multiple showings and offers. Your professional experience was a key factor in my selection of you as my agent, and I was very fortunate to work with you. Again, thank you for all your service and I would highly recommend you to future, potential clients.

Jonathon Esarey
Franklin, TN

"We gave you FIVE STARS on Zillow!"
"We decided to list our home in Brentwood TN and chose Mike to be our REALTOR. Mike went above and beyond what was expected of him. He worked tirelessly during the listing, marketing and negotiating process and we were very pleased with the results. He gave us top notch personal service and handled the entire process very professionally.
We would definitely recommend him to anyone looking for a first class REALTOR."
Peter and Chivon Dechelle
Thank you for working so hard to sell my property!
This makes a difference in how I feel about working with an agent! You
are different!
Thanks!
Linda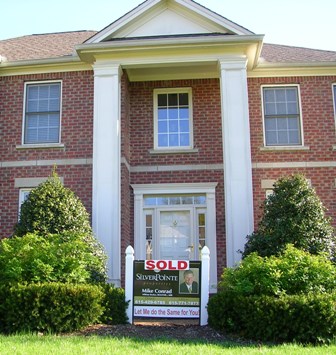 Brentwood TN short sale home sold by Mike Conrad

Mike,
I am looking at www.saratogahillshome.com

I've probably looked at 300 homes online in Minneapolis and this has to be one of the top 10 best sites I've seen to describe a house. The photographer did a GREAT job.
I like the link to google as opposed to other maps. The google truck must have driven down both Saratoga and Chesapeake as you can get the streetside view of the whole house.

Thanks for all of your hard work.
Bryan

fyi
"You are extremely fortunate that Mike is your agent. There were a
couple of last minute issues that came up this week, and he is one of
the main reasons that you're able to close today."
Mortgage Broker to Happy New Homeowner
Hi Mike,
I just wanted to let you know that you have been awesome! ...boy what am I going to do with all that space? Just kidding...but thank you once again and I will definitely being referring people your way!
Kristina

"Thank you again for your help in selling our house. I know the market was soft, but you did everything you could to set our home apart from other ones in the area. Your extra effort in ad placement, house preparation, promotional flyers, professional photography and web placement, allowed us to receive the best price possible for our home.
I definitely recommend you to my friends and co-workers."
Tim Park - Smyrna
"Mike represented us in the sale of our Franklin, TN home. Within 23 days of listing our home, Mike brought us an outstanding contract with favorable timing for closing. The entire process was successfully completed in less than 60 days!
Mike Conrad's enthusiasm, integrity, honesty and professionalism make him the best in Williamson County real estate. It was a pleasure to work with him and we are very comfortable in recommending Mike to friends, neighbors and business associates...in short, we are happy to serve as a positive reference for him!"
Chris and Merrily Wyrick - Franklin
"Thanks Mike! We could not have done this on our own."
Former Tennessee Titan Rocky Calmus and his wife Teri -Brentwood
"Mike's unique style and approach is a breath of fresh air."
Bob Bicsak - Brentwood